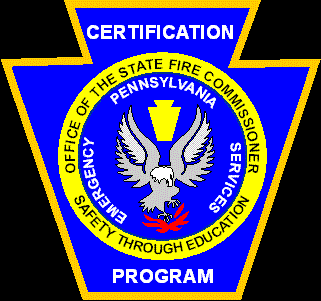 Run Statistics

2017 calls - 328

2018

Jan
37
Feb
26
Mar
15
Apr
23
May
21
Jun
32
Jul
22
Aug
26
Sep
31
Oct
34
Nov
20
Dec
09
Total
296
Click on the link aboe to see our 2017 video
Total Site Visits Since January 5, 2014
Latest Incident:

Incident #

Date

Location

Type

18-296

December 6

Holiday Inn Express

fire alarm
Live facebook feed
scroll through the facebook link page to view our latest news


Assist to South Abington Twp
June 2

- (20:17) While members and their families were enjoying our annual Summer Family Picnic, Ladder 23 was dispatched to assist Chinchilla Hose Co

(Station 2)

at the Inn at Nichols Village for a reported structure fire. While responding, the ladder was updated that an air conditioner unit was on fire and now extinguished, however there was still a heavy smoke condition throughout the building. The ladder arrived and went to work setting up PPV fans. The ladder operated on scene for about an hour before returning to service.

Structure Fire - Scott Rd
June 2 - (08:58) DCFD and the first alarm assignment were sent to the 900 block of Scott Rd for a report of a house on fire. Car 23 and Chief 23-B (Wallo) arrived on scene confirming a working fire on side B with fire showing. Reports of possible entrapment began to funnel in and a primary search was started. The ladder arrived on scene, stretched an attack line and assisted in the completion of the search. DC Firefighters quickly brought the fire under control and completed overhaul. No injuries were reported and the home owners were found to be out of town. The fire was investigated by PSP.

Companies on Scene: L-23, E-23, R-23, E-22, R-27, DCEMS, CHEMS
Assist to Susquehanna County

February 14 - (03:30) DCFD was called to assist in Susquehanna County on Interstate 81 (m/m 207) for a multi-vehicle crash with tractor trailers involved. Due to icy road conditions, some units originally dispatched were not able to make it to the scene. DCFD Rescue 23 was tasked with extricating an entrapped victim in the cab of a straight truck. The vehicle was stabilized with air-shores and chain come-a-longs attached to an anchor point. Hurst cutters and hydraulic rams were used to perform a "dash push" to free the victim. DCFD worked in conjunction with Scott Twp. E-36, Chinchilla R-2, Mayfield R-59, Montrose United Fire Company and Commonwealth Paramedics. Rescue 23 also assisted Hallstead Fire extricate an occupant from a tractor trailer.
Busy January for DC Firefighters
January 5 - (15:12) Commerce Boulevard - Multi-vehicle crash with driver entrapped. Wind chills of -20 degrees.
January 10 - (13:44) Ladder 23 assisted at a working kitchen fire at 116 Dunmore St., Throop. Ladder 23 performed a primary search and assisted with overhaul.
January 12 - (07:11) Ladder 23 assisted at a working structure fire at LB Nails, 1570 Main St. in Peckville. Ladder 23 assisted with rooftop HVAC ventilation.
January 17 - (21:45) Engine 23 assisted the Throop Fire Department at a smoke condition investigation in the area of Scranton Craftsmen on Dunmore St. in Throop. Crews found a tri-axle dump truck on fire in a large garage on the property. Engine 23 assisted with fire extinguishment and overhaul.
January 29 - (13:28) Rescue 23 was dispatched along with EMS to the McDonalds on Business Route 6 for a vehicle into the structure. Crews arrived to find one vehicle into a glass window, with the sole occupant self-extricated. The structural integrity of the wall was deemed safe by the Rescue Crew, and the vehicle was removed by Johnson's Towing. A contractor was called to the scene by management. No injuries were reported.
January 30 - (09:03) Ladder 23 responded into "The Queen City" (Olyphant) as part of the S.R.N. Assignment for a working fire in the basement of a residence on South Valley Ave. The ladder arrived on scene and assisted with ventilation and overhaul. While the Ladder Co was operating, Rescue 23 was dispatched to the area of the McDonalds on the Scranton Carbondale Highway for a car into a jersey barrier, and was canceled by EMS short time after dispatch.
~Pictures are from Blakely Hose Co. #2 Facebook Page~
Another great year for our annual gun raffle fundraiser.
Thank You to everyone who helped make this event a success.
Click here to see the list of winners.
Crews battle large fire

October 6 - (22:11) Dickson City firefighters along with several other Lackawanna County fire departments battle a large fire at T.S.E. Utility Contractors near the 300 block of Main Street. A large stock pile of plastic utility pipe was on fire. A nearby garage and several construction vehicles did suffer some heat damage. The cause of the fire is under investigation by the PA State Police Fire Marshal's Office.
Engine heads to Covington Twp.

October 3

- Engine 23 traveled to the North Pocono area to assist the Covington Twp. Fire Dept. with a structure fire. The Engine assisted with fire suppression on the second floor and attic area.
Working fire on Grant Court

August 5 - (17:52) DC Firefighters along with first alarm companies were alerted to a garage fire in the 700 block of Grant Court. Within a few minutes of dispatch, the SRN was activated, bringing in additional help due to the heavy fire conditions in the garage. DCFD "emptied the house" and made an aggressive attack with the assistance of mutual aid companies. A second alarm was transmitted for additional resources due to the size of the garage and attached structure. Firefighters operated for approximately 3 1/2 hours. Fire damage was limited to the garage while the attached two-story structure suffered heat, smoke and water damage. The cause is under investigation by the PSP Fire Marshal.

Companies on scene: DCFD, Blakely E-22, Olyphant E-261, Throop R-27, Peckville L-20, Eynon E-33, Mayfield R-59, DC EMS, Penn EMS rehab.

Elmhurst R-15 provided stand-by coverage to the Mid-Valley area during the incident.





Grant Court side

Main Street side
DCFD receives grant

July 27

- Wal-Mart Supercenter of Dickson City presented the fire department with a $2,000.00 grant check. We thank Wal-Mart for selecting us to receive this grant. The grant money will be used to purchase equipment.

pictured L to R: Frank Mazur, Robert F. MacCallum, Sean MacCallum
Enjoy a safe grilling season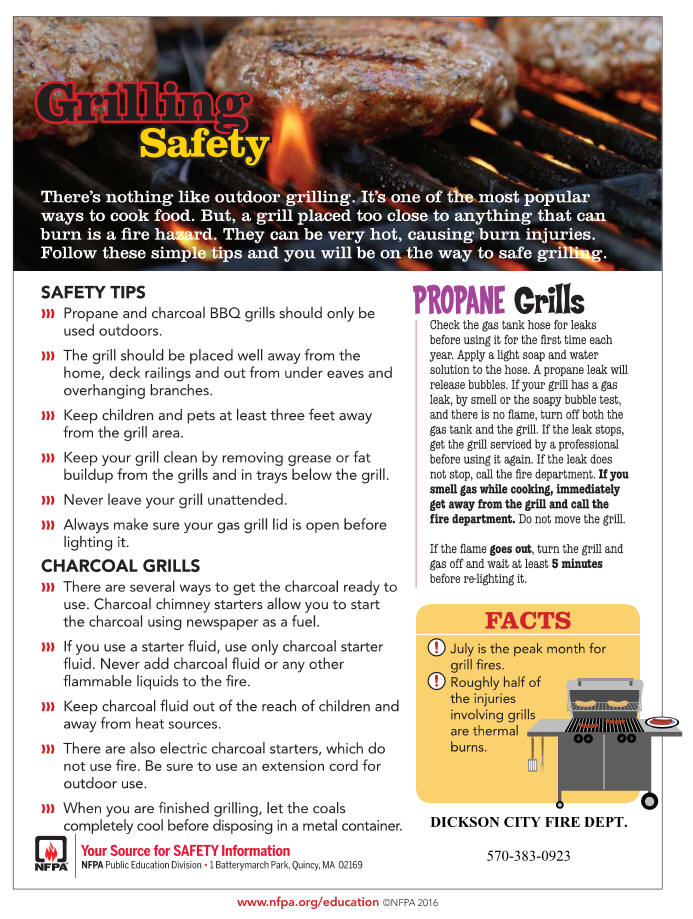 June 5

- It is with an extremely heavy heart that we announce the passing of life members Jim Slocum Jr. and Ray Hauser. Our sincere condolences to the entire Slocum and Hauser families.





Jim was a 55 year member and Ray was a 35 year member.
Happy Anniversary
June 10 - Eagle Hose Co. No. 1 is celebrating its 125th anniversary this year. Firefighters spent the morning hanging this banner in the 1000 block of Main Street

Although Joe "Chooch" Chowanec hasn't convinced the dept. to buy an Aerialscope yet, he did get his chance to be in a bucket on Main St.
Assist to Throop
June 2 - (18:45) Ladder 23 was dispatched on the first alarm assignment to Rebecca St. in Throop for the report of smoke coming from an attic. Ladder 23 responded with a full crew and arrived on scene to assume duties of the first due truck company. Crews found a fire in the attic and extinguished it with a can. The ladder crew overhauled the attic and second division. Engine 27 laid a supply line to the Ladder and Rescue 27 crew assisted the ladder crew with overhaul. Car 23 assisted Chief 27 with operations/command. Crews cleared the scene in just over an hour.



As crews were wrapping up, a fire alarm box was struck for the Viewmont Mall. Car 23 cleared the fire scene and handled the fire alarm.
Thank You to Servpro
May 5 - Special thanks to Servpro of Carbondale/Clarks Summit/Old Forge who donated cases of water for firefighter rehab at incidents. Their generosity is greatly appreciated by the DCFD.
The sign says it all - Wow
April 19

- (21:55) Crews were sent to the First National Community Bank at 934 Main St. when a car crashed through the front doors and destroyed the teller area. The occupants were out of the vehicle upon our arrival. Ladder 23 personnel investigated a slight smoke condition in the bank and assessed the structural damage caused by the crash. The cause of the accident is under investigation by the Dickson City Police.
DCFD heads to Hemlock Farms for training
March 4

th

&

5

th

:

Members from the Dickson City Fire Department were invited to venture up to Hemlock Farms (Pike County) for a weekend of in-house training at an acquired structure. On Saturday, members conducted Rapid Intervention Team (R.I.T.) training, and practiced many different techniques to extricate a downed firefighter; including "The Denver Drill", interior and exterior wall breeches, and various different types of "rescue drags". Bright and early Sunday morning, members arrived at the residence and wasted no time in starting to run "Truck Company" drills which included search & rescue, forcible entry, roof top ventilation, and salvage & overhaul. We would like to thank the Hemlock Farms Vol. Fire Department for the opportunity to train with them, and we look forward to what training might arise in the future.

Scouts in Gov't Day
March 4 - Boy Scouts from Dickson City Troops 21 (St. Mary's) and 322 (DC Ambulance) stopped by the fire station for a tour and demonstrations. The visit was part of Scouts in Gov't day which allows the scouts to learn about local government and see how services are delivered to borough residents and visitors. Thanks for stopping by!
FAST assignments
So far in 2017, DCFD firefighters have responded to Clarks Summit

(twice)

and Old Forge to function as a Firefighter Assist and Search Team (FAST). A firefighter assist and search team, also known as a rapid intervention team/crew (RIT/RIC), is a team of two or more firefighters dedicated solely to the search and rescue of other firefighters in distress. FAST shall have no other operational assignment during an incident. Multiple alarm fires may require multiple FAST/RIC teams.
Dickson City firefighters operate as FAST during a structure fire on Sussex St. in Old Forge on February 21, 2017
Green Cross Award
The following firefighters received the Hurst Jaws of Life Green Cross Award for their involvement in a successful vehicle rescue that occurred on January 10, 2017 in S. Abington Twp.



| | |
| --- | --- |
| Matthew Crimi | Michael Fedorisin |
| Martin Hrinko Jr. | William P. MacCallum |
| Kenneth Oakley | Jason Perry |
| Anthony Romeo | John Wallo |
Multi-vehicle crash in Chinchilla

January 10 - (23:30) The Rescue Co. took to the Interstate to assist Station 2 (Chinchilla) on a large scale multi-vehicle crash with vehicles on fire during an ice storm. The Rescue arrived and was tasked with extrication of a driver pinned in a passenger vehicle. Crews found the vehicle literally in the trailer portion of a tracor trailer that was involved. While additional crews handled the fires and controlled hazards, DCFD deployed 8 personnel, 2 cutters, a spreader, 2 rams, and multiple saws to access and free the driver. We must note the fantastic teamwork of all companies involved, for without it, the outcome would have been different. Once extricated, the driver of the passenger vehicle was transported to a local hospital with non-life threatening injuries.



photo courtesy of Chinchilla Fire
Congratulations!
Congratulations to Dickson City Firefighters William P. MacCallum and Anthony "Jack" Romeo for recently obtaining Firefighter I certification. These firefighters were tested according to national certification standards. Great Job, men.
SUV fire at Valvano's
December 12 - (06:22) Firefighters were called to Valvano Construction in the 300 block of Main St. for a report of a truck on fire. It was confirmed that it was a fully involved SUV on fire near a building. Ladder 23's crew stretched the bumper line and extinguished the main body of fire. Crews had a difficult time extinguishing the remaining fire due to the magnesium construction of the steering column and engine block. A dry chem extinguisher was used to extinguish the remaining fire.


Carbon Monoxide safety tips

Often called the invisible killer, carbon monoxide is an odorless, colorless gas created when fuels (such as gasoline, wood, coal, natural gas, propane, oil, and methane) burn incompletely. In the home, heating and cooking equipment that burn fuel can be sources of carbon monoxide.
CO alarms should be installed in a central location outside each sleeping area and on every level of the home and in other locations where required by applicable laws, codes or standards. For the best protection, interconnect all CO alarms throughout the home. When one sounds, they all sound.
Follow the manufacturer's instructions for placement and mounting height.
Choose a CO alarm that has the label of a recognized testing laboratory.
Test CO alarms at least once a month; replace them according to the manufacturer's instructions.
If the audible trouble signal sounds, check for low batteries. If the battery is low, replace it. If it still sounds, call the fire department.
If the CO alarm sounds, immediately move to a fresh air location outdoors or by an open window or door. Make sure everyone inside the home is accounted for. Call for help from a fresh air location and stay there until emergency personnel arrive.
If you need to warm a vehicle, remove it from the garage immediately after starting it. Do not run a vehicle or other fueled engine or motor indoors, even if garage doors are open. Make sure the exhaust pipe of a running vehicle is not covered with snow.
During and after a snowstorm, make sure vents for the dryer, furnace, stove, and fireplace are clear of snow build-up.
A generator should be used in a well-ventilated location outdoors away from windows, doors and vent openings.
Gas or charcoal grills can produce CO — only use outside.
MVC for Rescue Co.
October 12 - (17:15) Rescue 23 along with EMS were sent to the area of the Spirit of Halloween store on Viewmont Drive for a mutli-vehicle accident with injuries. Crews arrived on scene, controlled hazards, and returned to service.
Ladder runs working fire
October 12 - (07:40) Ladder 23 was requested on the S.R.N. assignment to respond into Olyphant, "The Queen City", to assist on a working commercial structure fire. The Ladder marked enroute with a crew of 5 and arrived on scene as the 2nd due Truck Company. The 4 man interior crew was placed into staging, assisted with clean up, and returned to service.




~Photo from WNEP~

Busy day for the 23 House

Scott Rd. and Breaker St.
October 9 - Shortly before the annual Steamtown Marathon was set to begin, Rescue 23 and 23 EMS were sent to Scott Rd. & Breaker St. for a one car MVC, vehicle into a pole. Chief 23A (Horvath) arrived on scene and advised of one vehicle into a pole, with all occupants out of the vehicle and a pole that was sheared in half. The Rescue arrived on scene and stood by while Johnson's Towing removed the vehicle.

Crews were later sent to the area of the Goodwill on the Scranton-Carbondale Hwy. for a two car MVC with injuries. The Rescue arrived on scene to find EMS rendering care to the injured. No rescue services were needed.

Shortly after returning to service from the Goodwill, once again, the Rescue was sent to the Scranton-Carbondale Hwy. in the area of Idle Hour Lanes for a three car MVA with injuries. Crews arrived to find EMS rendering care to the injured. Hazards were controlled and the Rescue Company returned to service.

At 1420 hours, a 1st alarm box assignment was struck for the Dickson City Civic Center for an activated fire alarm. Chief 23A arrived on scene and confirmed burnt popcorn was the cause of the activation and that all units could return to service.
Rescue runs rollover
September 21 - Rescue 23, 23 EMS, and CHEMS were dispatched to the area of Sheetz on the Scranton Carbondale Highway for a one car motor vehicle rollover with entrapment. While responding, crews were updated with a new location, in front of Feel Good Motors. Crews arrived to find two vehicles involved, one being on its side, with all occupants out of the vehicle. Hazards were controlled and EMS rendered care to involved parties.
Ladder heads to Peckville
September 16 - Ladder 23 was requested on the S.R.N. assignment to respond into Area 20 (Peckville) to assist on a working structure fire. The Ladder arrived as the 2nd due Truck Company and was placed in staging, only to be returned shortly after.


~Photo Credit: Annmarie Crimi
September 11 - We Remembered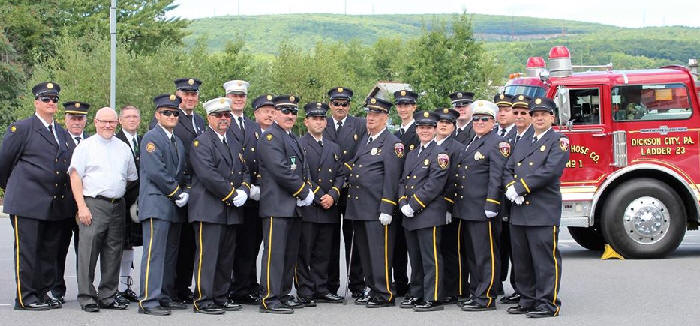 members of the Dickson City and Blakely Fire Dept.'s gather following the beam dedication - photo by Deb Bell
September 11 - Members of the DCFD remembered the attacks of 9/11 by attending numerous ceremonies. The morning started with the annual 9/11 memorial service where members read each name of the FDNY firefighters who perished in the horrible attacks at the World Trade Center (WTC). Following the memorial, we attended the annual Blue Mass at St. Mary's Visitation Church celebrated by Msgr. Pratico, DCFD chaplain. The day concluded with a dedication ceremony for a piece of a steel beam that the borough received from the WTC. The beam will be permanently displayed in the foyer of the Borough Admin. Building.
September 10 - Several members attended the annual Northeast Pennsylvania Volunteer Firefighters convention that was held in Lake Ariel this year. The department received awards for second best appearing company in the line of march and first place for best appearing heavy rescue vehicle.
Busy Summer for the DCFD
This summer has been a busy one for vehicle rescue training and demonstrations. It started in the month of June when Lt. Ed Kalinowski Sr. donated his old Chevy Tahoe to the dept. to "cut up" for training. Training was held weekly, starting with stabilization of the Tahoe upright, on its side and overturned. The training exercises concluded with removing the doors, roof and performing a dash roll.
On July 21st, we assisted the PA State Police with their Camp Cadet program at Marywood University. A vehicle rescue demonstration was performed along with tours of our rescue and ladder trucks.
On July 26th, personnel were invited to participate in a bus rescue demonstration. During the demonstration, rescue techniques were photographed to be used in a new edition of a vehicle rescue text book.
On August 17th, the ladder truck and command car were on display at Dickson City Police Dept.'s night out event at the Circle Drive-In.
Beginning in July and still in progress, we have been training with mutual aid companies from Blakely, Peckville and Justus. We have been meeting twice a month and coming up with some interesting stabilization and extrication training scenarios. The training will conclude sometime this fall.


While we were busy with all of these extra-curricular activities including sponsoring the beverage stand at Dickson Days, we were also alerted to 91 emergency calls so far this summer.
Fire at the Fasion Mall
July 7 - (02:13) - Firefighters were dispatched to the Fashion Mall on the Scranton/Carbondale Highway for the report of a smoke condition in the area. DC Police were quickly in the area and reported that the smoke was coming from the TCBY store. A working fire was confirmed and the SRN was activated by Fire Chief Chowanec. Ladder 23 forced entry, located the fire and the can man extinguished it with his 500 gallon can (handline). Engine 23 established a water supply and pulled a backup line to the building. Crews from R27 and R23 vented the roof. Ladder 20 and Engine 22 forced entry into the adjoining business', performed recon and set up ventilation while R261 provided RIT duties. The fire was contained to the rear area of the TCBY store while the rest of the strip mall did receive smoke damage. The cause of the fire is under investigation by the PA State Police Fire Marshal. DCEMS provided BLS services and rehab. All companied cleared the scene by 5am.
photo by: Throop Rescue 27
Thank You to Servpro
July 6 - Special thanks to Servpro of Carbondale/Clarks Summit/Old Forge who donated cases of water for firefighter rehab at incidents. Their generosity is greatly appreciated by the DCFD. Servpro is also a sponsor of the 2016 Keystone Firefighter Conference. Visit www.keystonefirefighterconference.com for more information.
Rescue Runs MVA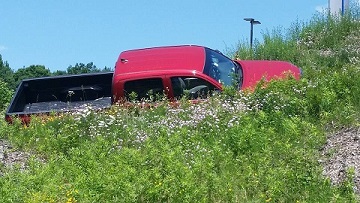 June 17
- (12:07) Rescue 23 along with DC EMS and Penn ALS were dispatched to Martin F. Gibbons Blvd. for a one vehicle MVA with injuries. The Rescue crew arrived on scene to find a vehicle into a ravine with the driver of the vehicle being cared for by EMS. The Rescue crew assisted EMS with removal of the patient who was then transported to Geisinger CMC.
2016 Fund Drive Underway
Dickson City business' and residents should have received fund drive requests in the mail during the first week of May. This fund drive is one of our annual fundraisers which allows us to provide the residents, business owners and visitors of the community with the best services possible. Please consider supporting your dedicated volunteers by sending in your donation today. If you did not receive a donation request in the mail, you can give us a call or send in your donation to our mailing address.
To everyone who has already sent in their fund drive donation, we sincerely Thank You.
fire station phone number: 570-383-0923
mailing address: Eagle Hose Co. No. 1
1 Eagle Lane
Dickson City, PA 18519
Scouts in Gov't Day and assist to Dunmore
May 7 - Boy Scouts from Troops 21 and 322 of Dickson City visited the fire station during Scouts in Gov't Day. Members provided tours of the station and apparatus and also explained how the dept. operates.
May 8 - (00:15) Rescue 23 assisted at a working structure fire on Mill St. in Dunmore. The Rescue crew was given the RIT assignment and was on scene till 7am.

Busy 24 hours for the DCFD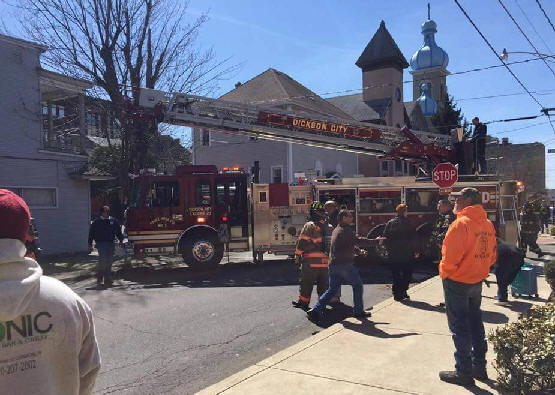 ~ photo of Ladder 23 operating in Olyphant ~
March 29 & 30 - The last 24 hours have been busy for the DCFD. Shortly after 10pm on March 29, first alarm companies were sent to the 400 block of Storrs St. for a reported garage fire. Crews arrived on scene to find a working fire in a one car garage that was quickly extinguished by the crew from Ladder 23. Wednesday, March 30 started with a fire alarm at The Olive Garden, a mulch fire at the Viewmont Mall and an assist to the Olyphant Fire Department with a working structure fire at 200 Lincoln St. in the Queen City. The crew from Ladder 23 assisted with rooftop ventilation.
Assist to Covington Twp.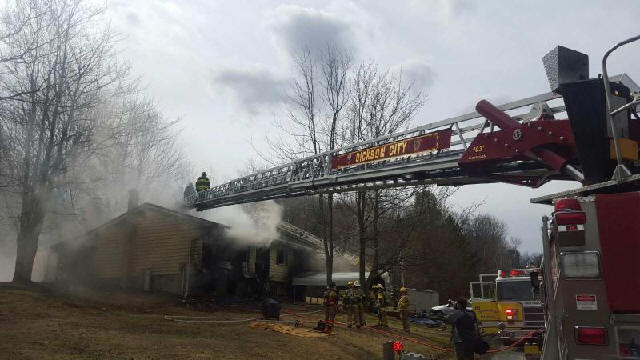 March 17 - (10:58) Ladder 23 was dispatched as part of a 2nd alarm box assignment to Skyline Drive in Covington Township. The Ladder crew assisted with rooftop ventilation and was returned to service shortly after. Several North Pocono area Fire Dept.'s were on scene.
Chimney Fire
March 2 - (23:00) Firefighters were dispatched to Edwards Lane for a chimney fire. Crews arrived on scene to find a utilized wood stove connected to partially blocked chimney. The burning wood was removed from the firebox and the chains were dropped in the chimney to clear the partial obstruction. The walls around the stove pipe were opened up after it was discovered that the fire did extend into the home's wall. The fire in the wall was extinguished and the companies returned to service.

Reminder - have your chimney cleaned and inspected annually, especially when burning wood.
FF Randy Kochanowski "droppin' the chains"